I created five wooden presents: a cutting-and-serving tray for baguette bread, an edge-grain cutting board with juice grooves for the kitchen, a large coaster for bigger pots, a set of drink coasters, and a serving tray. All of them were created using water-resistant and food-safe graded glue, and finished by either rubbing them or fully soaking them in mineral food-safe oil, followed by a rub-on food-safe wax.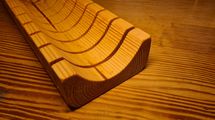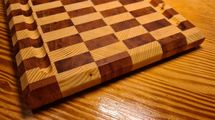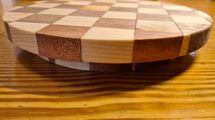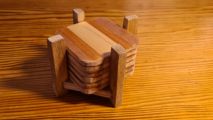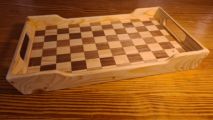 ---
Baguette bread cutting and serving tray

---
For the tray, I started with a long trunk of roughly-cut wood, and then jointed and planed it down to a smaller, perfect-square block. Then I set up my table saw for a long cove cut. I then made repeated, wide cuts across the block which dip a little bit into the bottom. The final piece was given some edges on the under side and fully sanded smooth. The tray is used as follows: place a long baguette bread in the cove, and slice it up with a knife through the slits; that way you will conveniently end up with equally-sized slices of bread.
---
Cutting board

---
There exist various types of cutting boards for the kitchen, but those that have the best life are so-called end-grain cutting boards. Such boards are better at dealing with repeated knife cuts, as a knife will now cut between grains instead of across them. I started by cutting some long strips and glueing them together in an alternating fashion, with their face grain up. These were then sliced across the grain direction, and again glued together, but this time turning every slice up to reveal the end grain, and flipping every other slice to create a checkered pattern. After jointing and planing both sides, I rounded over all sides, top and bottom. For the finishing touch, I created two juice grooves at opposites sides.
---
Large coaster

---
To create the large coaster, I started by glueing some slices together in pairs, each time a light and a dark one. These were then sawn to have an equal width, after which I glued them together to form a thick board, with colours alternating between the top and bottom layers. Then, they were again sawn into slices of equal width, and glued together, each time flipping every other slice to create a checkered pattern. I then took the board once more to the table saw, this time to create a big disk. The underside was routed away to create an inset for carrying it with your fingers.
---
Coasters

---
I made the coasters by first selecting, trimming, and glueing together a set of different kinds of strips of wood. I then planed these down a smaller thickness, and cut them into six eight-by-eight centimetre squares, after which I sanded all their corners and edges round. Finally, I created a small holder to store the stack of coasters.
---
Serving tray

---
I made the base of the serving tray out of two kinds of strips of wood, with multiple cuts and then glued together in a checkerboard pattern. I sculpted the long edges of the tray (and copied them on the router table) and then rounded them over. For the short edges, I drilled consecutive holes in order to have handles for the hands. Note that I made the short edges twenty-degrees slanted, with all corners and the base reinforced with dowels.